So I got a new Instant Pot
It was Amazon Prime day in July… I couldn't help it. I bought an instant pot to my husband's chagrin. (we already have way too many kitchen gadgets).
I am hopeful this new gaget will replace my slow cooker – It should, and take it's cupboard space.  ANNNNDDD I hope it solves another problem – the one I have with forgetting to take out meat to thaw in the morning.  With the instant pot you can cook from frozen in 30 minutes – its true! I tried it!
At first I was a bit scared of the pressure cooker feature – while I never had one growing up my mom regailed me with stories of exploding pressure cookers in the 70's – she was scared, and passed it to me.  Hence I have never had one.
Nowadays they make these things way safer… still though at first I was scared and ran out of the kitchen.  Old habits die hard.
Ok so here are two beginer recipes I have tried and one I will try this week:
Instant Pot hard boiled eggs
This one is so simple its crazy.  And it makes the perfect, most easily peeled hard boiled eggs.
A perfect starter place…
Place eggs in the instant pot on the rack. Put in 1 cup of cold water into pot.  you can cook 6-8 eggs at a time – close the lid of the instat pot and make sure the steam valve is closed and in the sealing position – cook on high pressure for 5 minutes (manual or pressure cook setting).
When it beeps do a quick release of the steam (careful not to burn yourself! I always do this with silicone oven mitts on…) and submerge the eggs in ice water for 5 min so they dont over cook – use tongs!
Done! perfect and easy to peel every time!
Instant pot poached chicken breasts
Also super easy!
To make it easier make sure you freeze the chicken breasts individually – then you don't have to fight to separate them – and they do need to be separated!
Ok so you can put in lots – you can stack the chicken breasts but make sure to separate – I did 6 the first time!
Steps:
put frozen chicken breasts in pit
add 1 cup of water or chicken broth and season with salt and pepper
Close the lid of the instant pot and move valve to sealing and press manual or pressure cooker setting and set timer to 10-12 minutes (12 was too long for me last time).  When it beeps let the pressure release naturally for 5-10 min and then release the remaining pressure – so easy!
If you do longer on the cook time the chicke shreds nicely for chicken salad.  Shorter and you get perfectly poached chicken… just make sure the internal temp of the chicken is 180F when you are done to make sure it is cooked through if you are worried.
Keto Pork Tenderloin in the instant pot
This one I haven't yet tried as of the writing of this post – I will be trying it this weekend or early next week though… credit to this blog and more instant pot keto goodness here! https://www.savorytooth.com/instant-pot-pork-tenderloin/  I totally stole this whole thing from there…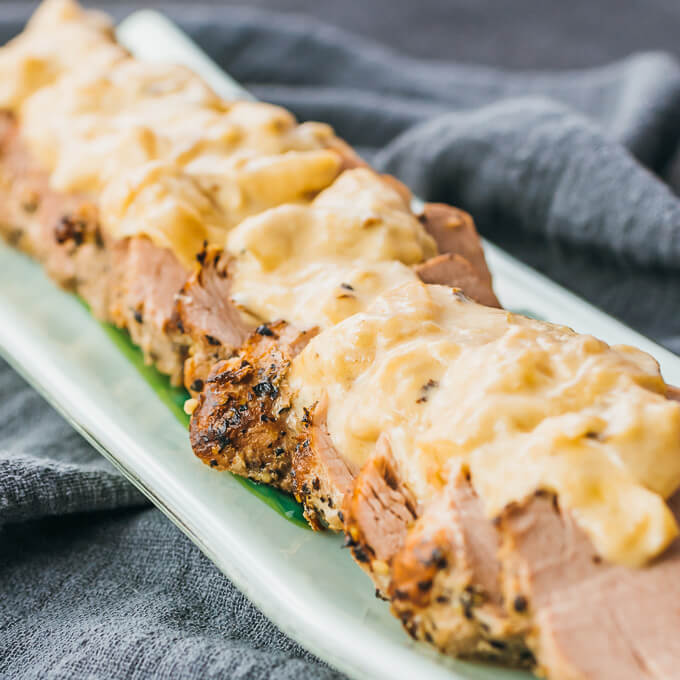 Ingredients
1

 

pork tenderloin (1 – 1.5 pounds)

1

 

small onion

 

thinly sliced

1/2

 

cup

 

water

1

 

tablespoon

 olive oil

salt and pepper
Instructions
Cut the pork tenderloin in half so it's half as long as before. If unseasoned, season all sides with salt and pepper.

Turn on the pressure cooker's saute mode for medium heat. When the display reads HOT, add olive oil to coat the bottom of the pot. Add pork and cook until golden brown on one side, about 5 minutes. Flip to cook the other side for a few minutes. Transfer the pork to a plate.

Add onions and cook for a few minutes, stirring frequently. Turn off the saute mode.

Add water, stirring and briefly scraping up any brown bits stuck to the bottom of the pot. Return the pork to the pot, nestling it on top of the onions.

Secure and seal the lid. Cook at high pressure for 4 minutes, followed by a 10 minute natural release. Make sure to wait the full 10 minutes; do not open even if the pressure is completely released before 10 minutes have elapsed.

Uncover and insert a thermometer into the thickest part of the tenderloin — it should read 140-145 F. Transfer the pork to a cutting board and let it rest, where it will continue cooking. Do not slice yet.

Turn on the saute mode. Add heavy cream and mustard to the pot, stirring together. Bring to a boil. Let the sauce boil for 8-10 minutes to thicken, stirring frequently. Turn off the saute mode and stir for a minute to let the boiling subside. Stir in parmesan cheese until melted.

Slice the pork into thin slices and serve onto plates. Pour the sauce on top.