Trying to get the kids to eat healthy cool treats?
Ok then this is the post for you – for these healthy homemade popsicle recipes all you need in the way of equipment is a food processor and popsicle molds.
Here are some that incorporate good fats, fruit and little or healthy sugars!
Lime Avocado Coconut Healthy Homemade Popsicles
Healthy Homemade Popsicle recipe 1
1 large ripe avocado
1 can coconut milk
1 whole lime zest
juice of one lime
1 tbsp. maple syrup or stevia
1 tsp chia seeds
Blend avocado and milk until very smooth and add the rest of ingredients and blend until mixed well.  Pour into molds and freeze. Serves 6-10.
Strawberry Peach and Yogurt Healthy Homemade Popsicles
Healthy homemade popsicle recipe two
1 quart strawberries (pureed)
3 peaches skinned/seeded and pureed
Honey
Plain yogurt sweetened to taste with honey or vanilla yogurt
Add 2-4 teaspoons of honey to strawberries and peaches to taste.  Layer purees in popsicle molds alternating with yogurt and ending with fruit puree and freeze.
Watermelon and Lime Healthy Homemade Popsicle
Healthy homemade popsicle recipe #3
1/2 a watermelon cubed
Juice of 1-2 limes
1-3 tablespoons of honey (to taste)
Add all to processor until smooth and liquid and pour into popsicle molds.
Freeze until solid (6-8 hours)
Kale Smoothie Healthy Homemade Popsicle
1 cucumber cut into chunks
4 leaves of young Kale (or substitute spinach) chopped roughly
1 banana
1/2 cup coconut water
juice of 1 lime
1 tablespoon honey
Blend all ingredients together until smooth, pour into molds and freeze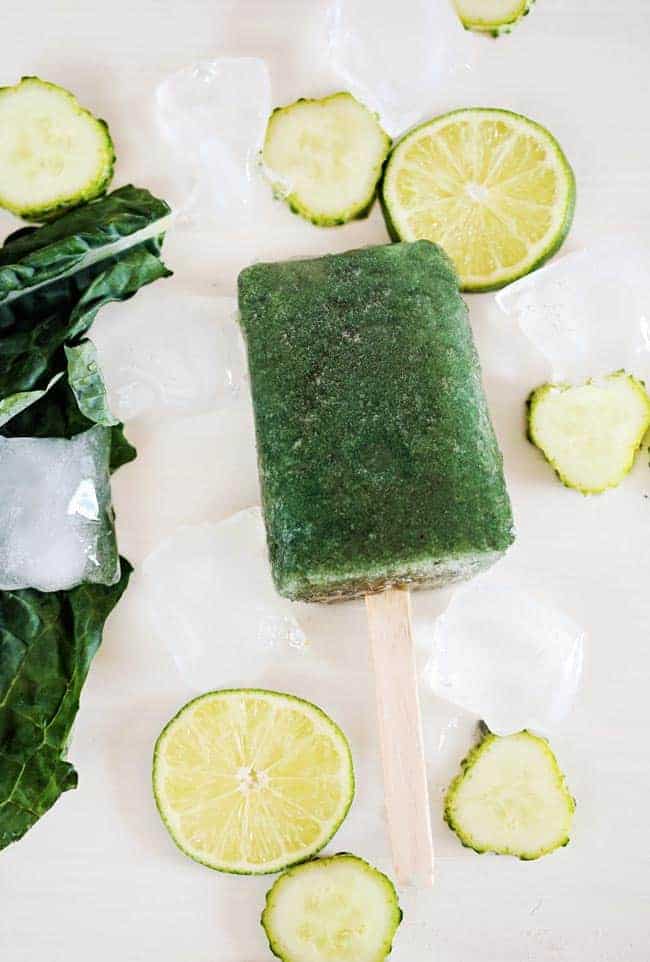 I hope you really enjoy these – I have heard that the silicone popsicle molds are really the best for getting the popsicles out easily – I plan on buying some soon – another way to do this old school is to pour the popsicle stuff into ice cube trays, cover with saran wrap or foil and then stick in a popsicle stick through the foil so it is supported and freeze… easy peasy!